Teacup Bird Drinker Or Feeder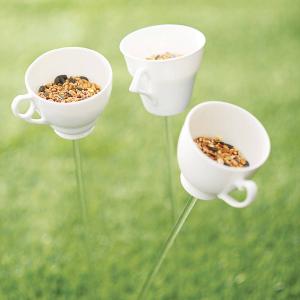 A fun, funky and functional item for the birds in your life!
An established designer must have for the home and garden.
By day a bird feeder/drinker for small garden birds, by night a tea light burner, creating a soft ambient light.
Can be filled with fresh, clean drinking water or seeds for your feathered garden friends.
Mounted on a clear acrylic rod for easy placement in the borders of your garden or pot plant.
Available in a choice of three great retro designs, in singles, pairs or a trio of the same design, or a trio of one of each design.
made from:
Handmade in the UK, fine bone china.
dimensions:
Overall height 38cm, cup height 5cm