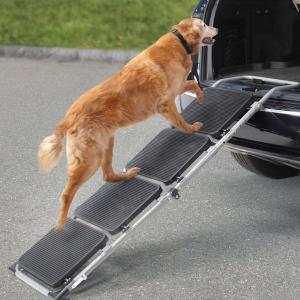 If you've got older or arthritic pets indoors who have a trouble climbing up SUVs or cars with height, try using this product.
You can either unfold it as four stairs or convert it into a sturdy ramp for your pets to easily climb or descend from a car. When not in use, you can easily fold it up to half its size and store it safely in some corner of the car. 
Simply rest it on the trunk of your SUV and give your pets an instant staircase to descend safely after enjoying a ride.
made from:
The staircase is made of a durable tubular steel frame and has hard plastic stairs with non-slip coatings to ensure your pets get the right grip while stepping on it.
dimensions:
The staircase/ramp folds to 1/2 its size for easy storage in a closet or a car. For pets up to 150 lbs. 58" L x 20" W x 6 1/2" D. (21 lbs.)