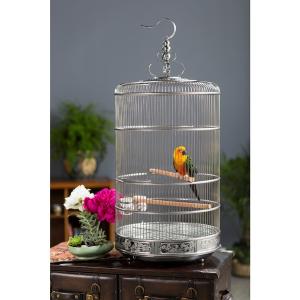 This unique, fashionable cage will be accentuate beauty of your home.
Prevue Pet Products Dynasty Stainless Steel bird cage is an elegant home for your small to medium bird. Sturdy stainless steel construction features an embossed decorative design around the base and roof cap plus an embellished finial for hanging. Beautifully decorated porcelain food and water cups add another dimension of design while the carved wooden perches are both pretty and foot friendly. 
made from:
Stainless steel. Cleaning instructions: Wipe with a damp cloth as needed.
dimensions:
30" H x 17,5" D