Aquafarm - Unique Fish Garden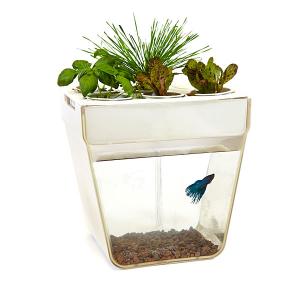 Just keep swimming! There are lots of ways to grow herbs, inside or outside, but none that are quite as cool as on an Aqua Farm.
Growing pretty herb gardens inside your home is not only trendy and healthy, but a great way to start putting fresh home-grown ingredients back into your diet. 
The Aqua Farm combines two traditional items into one: a fish tank and a garden. You can grow basil, mint, parsley, spinach, baby greens or other great foods right on top of a fish tank. Using the science of aquaponics the Aqua Farm transforms your fish's waste into nutrients for the plants, then, the plants clean the fish's water. Everybody is happy! No soil or fertilizer is needed.
Self-cleaning fish tank that grows food. Fish waste feeds the plants while plants clean the water!
Great gift for any kitchen or classroom.
Check Aqua Farm review - here
made from:
Made in USA
Includes:
Acrylic tank
Five planters
Organic wheat grass and basil seed packs from Seeds of Change
Fish-Prep preventative fish bath
Dechlorinator and beneficial-bacteria cultures
Fish-food starter pack
Water pump and tubing
dimensions:
Capacity: 3 gallons