Fashionable ROSE BED For Pets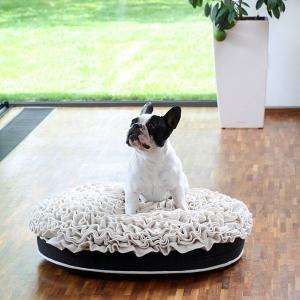 High quality, fasionable, unique and... the most romantic bed ever!
Orthopedic pillow with High-Quality-Latex-Filling
An adequate and ideal lying position is be the top priority when it comes to choosing a dog and cat bed. Commercial pet beds are usually filled with foam plastics with little density or polystyrene balls. Such fillings do not offer your pet the necessary point elasticity for a proper support of the spine and of the joints.
This collection of orthopedic cushions is specifically developed for pets. They are filled with high-quality-latex-flakes with an extremely high density. The higher the density, the more elastic, durable, sustainable, and the better will be the support effect and the capability to regain shape, as well as their support of the main position changes when sleeping.
Thanks to the high density, the  cushions maintain their stability and shape for a long time, remain permanently elastic and last for very long and are hardwearing. The perfect support for joints and spine.
This also makes them perfect for elderly pets, or pets with joint problems, dysplasia or arthritis.
This filling is also anti-allergic, antibacterial and regulates humidity and temperature.

Machine washable on 40 C° and tumble dry on low heat. 


made from:
filling of quality latex (orthopedic, so also for animals with arthritis, dysplasia or stiff joints) 
cover is sturdy fleece 400g / m². 
dimensions:
The basket has a diameter of 70cm or 90cm
Delivery time: 1,5 weeks