Engraved Two Hook Dog Lead Hanger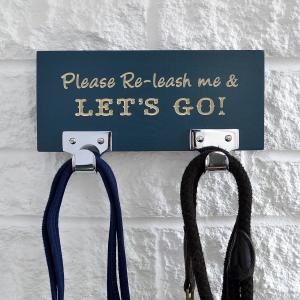 A humorous engraved dog lead hanger for the dogs' leads. An unusual and practical gift for dog lovers.
This play on words, based on the famous Engelbert Humperdinksong, this dog leash hanger features the words 'Please re-leash me and let's go', deeply engraved into solid hardwood. It is finished with two lovely broad hooks, onto which leads, toys and 'doggie bags' will hang comfortably.
Any dog-owner or even a pet-sitter will love this thoughtful gift. It also makes a lovely gift for dogs to give to their owners or pet-sitters!
These unusual hangers have been designed and made by WINNING WORKS in their own workshop in the heart of Derbyshire. If you look closely, you can see that their inspiration for the exclaimation mark is a dog's bone!
Being dog owners, their know that the broad hooks we use on these hangers are just the thing for keeping dog leads, doggie bags and balls on ropes neat and tidy.
The dog lead hangers come in a choice of woods and finishes and a choice of hooks to suit the decor and style of your home.
You can choose solid oak, which we engraved deeply and finish with danish oil to enhance the natural beauty of the wood. Or, as an alternative, choose our painted tulipwood version.
This hardwood is beautifully light in colour and we paint it in Farrow & Ball Hague Blue before precision-engraving through the painted surface to reveal the natural colour of the wood.
The engraved dog lead hanger has purpose-made keyhole slots on the back so that it is easy to fit and will sit flush and firmly against your wall.
Whe finish the oak dog lead holder with polished solid brass hooks and finish the painted dog lead hanger with contemporary chrome plated brass hooks.
made from:
The engraved back-boards are either natural oak or painted tulipwood.
The hooks are either solid brass or chrome plated solid brass.
dimensions:
H11cm x W25cm x D18mm