Set Of Two Dog Hogger Pillowcases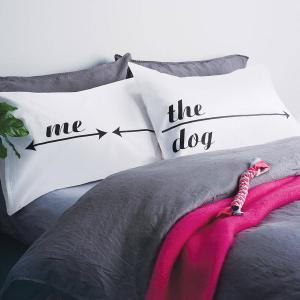 These pillowcases divide the bed into the customary and inevitable sections allocated to dog and master.
These Dog Hogger pillowcases are the latest in our range to celebrate 'bed-hogging'.
Bit of a must as a gift for dog lovers, a pillowcase set that tells it how it is! The print is as shown in the photo, seen as though standing at the end of the bed looking at the bedhead.
Please be aware that the image on your confirmation will show 'Me, the Dog, You' regardless of which option you pick, so check that the wording is as you want it.
Orders are packed for free inside a bright, bijou canvas gift bag and we can write gift messages on request. An extra gift bag is available for £1.
Other cases in our Bed Hogger range include:
My Side / Your Side
Mum / The Kids / Dad
Personalised My Side / Your Side with names
We offer a totally no-quibble policy on refunds or swaps on all unpersonalised items. We appreciate there is nothing more deflating than receiving a gift you are not totally delighted by. So if you are in any way underwhelmed please let us know so we can make amends swiftly and satisfyingly.
made from:
The disposable pillow cases are made from strong, smooth, luxury Egyptian cotton and are hand silk screened-printed in the UK.
Orders come gift wrapped for free in a bright canvas gift bag.
Machine washable.
dimensions:
These pillowcases are 50cm x 75cm, which may seem a little on the large side but this is to account for any shrinkage that occurs when washing 100% cotton cases.