Children's Tabby Cat Dress Up Costume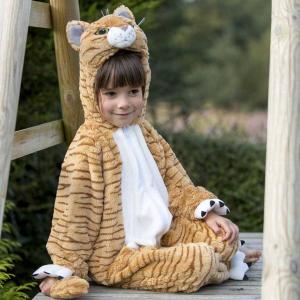 This super soft tabby cat costume is absolutely adorable for girls and boys alike.
A plush tabby cat costume with feature hood, soft whiskers and padded nose.
Available in four sizes from 1-8 years, it is a gorgeously soft costume for parties and dressing up for fun.
The tabby cat costume features:
- Hood with soft whiskers and padded nose
- Cat's tail to reverse
- Zip up front for easy changing
- Paws with soft claws
made from:
Made by TIME TO DRESS UP
100% polyester.
Machine wash cold, gentle cycle. Do not tumble dry. Do not iron.
dimensions:
The following should be used as guidance on which size to order for your child:
Age 1-2 Years: height 80-92cm, chest 51-53cm, waist 49-51cm
Age 2-3 Years: height 92-98cm, chest 53-55cm, waist 51-53cm
Age 3-5 Years: height 98-110cm, chest 55-59cm, waist 53-60cm
Age 6-8 Years: height 116-128cm, chest 61-67cm, waist 58-60cm