Espaço para necessidades portátil - Modko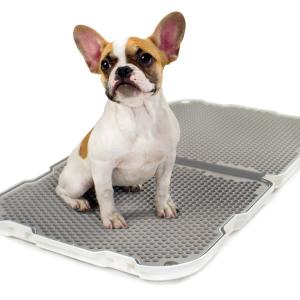 It is there when you're not, providing a comfortable, familiar spot for your dog to go when you're on the go.
The award-winning Shake Dog Potty is stylish, easy to clean, and portable.  It's handsome and sleek enough to leave out, so your dog has the freedom to use it whenever they need to. Its patent pending design effortlessly seals tight for mess-free cleanup, and it's so simple to fold, you won't think twice about stowing it away or taking it on the road. The result is a dog potty that is stylish, easy to clean, and portable.
Mess-free cleaning.
The Shake Dog Potty earned its name from its unique method of cleaning. Lock it shut using its four hide-away latches, add water, shake from side-to-side, up and down, flip and repeat and then empty into the toilet. Do this daily and Shake will remain ready to go for regular use. Wait, no bathtub or garden hose? No problem. Shake's svelte profile allows it to fit under most sink faucets.
For occasional more-thorough clean ups, use the included brush with mild detergent or enzyme cleaner to get into those hard to reach places. All of Shake's internal components are easily removable and replaceable, so you can feel confident that nothing is missed when cleaning.
What about number two?
Shake's grates pop right off, allowing for safe, mess-free disposal.
Basic training.
When Fido isn't up for that winter morning walk or if you are stuck in that endless afternoon meeting, rest assured that Shake is there for you. Just leave Shake open in a quiet, familiar place in your home, where your dog feels comfortable. When your dog finishes, clean it and put it back for the next day. Because Shake is slightly raised off the floor it gives dogs a perimeter so they know exactly where to go and more importantly, where NOT to go.
Whether you're potty-training for the first time or transitioning from pee pads, most dogs will take to using Shake with a few simple steps and lots of positive reinforcement.
Ready to go. 
Nobody wants to be left at home. If you're on the road or visiting a friend, bring Shake along so your pup has a familiar place to go. If there's no place to empty it, just fold it up and empty it when convenient.
Awards:
Red Dot Award - Products Design
Pet Business - 2014 Industry Recognition Award
made from:
Stylish Design
Portable
Mess-free cleanup
Comfortable on paws
Includes natural bristle brush
Simple training
Supports dogs of all sizes
dimensions:
Dimensions Closed:
43cm L x 47cm W x 8.3cm D
Dimensions Opened:
85cm L x 47cm W x 4.5cm D