Suporte para Comedouros Elevados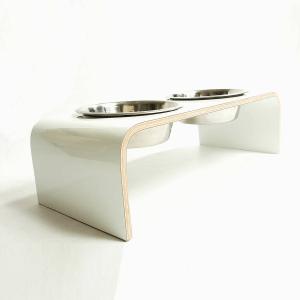 These raised pet feeders are designed to be stylish whilst being practical.
They are vacuum pressed with a durable Formica finish providing a smooth easy-to-wipe surface that improves hygiene.
Raised pet feeders can benefit your pet by reducing gas and indigestion whilst providing relief for older and arthritic pets who may find meal times difficult.
Anyone with a love of pets and / or good design will enjoy what handmade feeders will bring to your home.
All of these products are designed and handmade-to-order by LOLA AND DAISY DESIGN.
made from:
A Formica laminate which is vacuum pressed onto plywood using a non-toxic quality wood glue.
This can be cleaned with a soft cloth and general non-abrasive kitchen cleaner.
The wood is sealed with beeswax for a natural finish and rubber feet help reduce slippage.
The stainless steel bowls are dishwasher proof for easy cleaning.
dimensions:
64cm L X 33cm W X 26cm H, diameter of the bowls 25cm.
 Available in a number of different colours and handmade in the UK.