Hilarious Smartkitz Small Animal Castle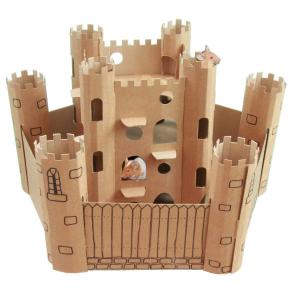 Let your small pet be the king of its very own castle with the Smartkitz Small Castle!
This castle is assembled from flat pack cardboard with no glue or tool required! Hours of fun for any lucky small pet!
Create a unique and fun play area for your small animals with this built it yourself castle kit.
A stunning three floor building with plenty of windows and doors, this castle has been designed with a bailey to keep your small animals contained and this small castle features many hidey holes for your small animal to explore and hide in.
Playing in castles like this is a great way to stimulate your pets and give them plenty of exercise and an outlet for their natural instincts. The floors have been specially designed to support your pet's weight.
This castle is also a great way for your kids to play and interact with their small animal pets! Your kids will love to decorate their pet's new play area and make it truly personal and different.
Ideal for a wide variety of small pets including mice, hamsters, gerbils, rats, ferrets and degus.
See more:
Please Note: Some small pets might not be happy with the interior layout of this unit as it is and might try to create their own doors, windows or widen the existing ones.
This is a natural instinct for many small animals as they often gnaw on things not only to keep their teeth healthy and sharp but because they are really into interior decorating.
Check the Smartkitz Small Animal Castle review:
made from:
Easy assembly from flat pack
Made from recycled cardboard
dimensions:
L48 x W49 x H32cm
Please Note: Due to constant redecorations and use by your animals, this product may become unstable after a while. Some naughty small animals might also attempt to escape by chewing a tunnel out through the walls.
Keep an eye on the stability and security of this product and replace once worn. Use only under supervision.